Dom gościnny LENIUCHY
"Leniuchy" took their name from lazing or in other words relaxing, doing nothing, knocking about and so on.
Staying at our place, you can really take a rest from the city, its rush and noise, the loads of problems waiting be solved, text messages, e-mails waiting for your urgent response.
People used to say about the place like this "forgotten by…" but this is the place where you can drink your morning coffee and slowly start a day while looking through the window and watching a grazing deer, the neighbor's cows with their calves nibbling sweet-smelling grass and pheasants with quails clumsily trying to start up. We were enchanted by this place and we stayed here for good. We renovated an old (dating back to 1864), stone house of an unusual beauty and we built another one in a style of a large village barn. This new comfortable house is intended for our guests.
Location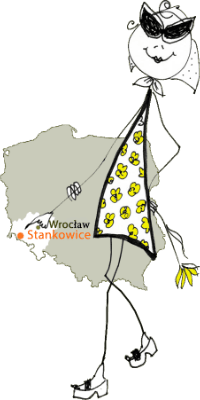 It is located on the 0.5 acres plot, in a quiet and peaceful village near the forest, Lesnianskie Lake and Zlotnickie Lake.
Additional advantage of the place is the proximity to the border crossing points: 8 km Lesna – Miloszow, 32 km Zgorzelec – Goerlitz
It is an excellent location for all those who are planning longer excursions to Prague, Berlin, Dresden or Wroclaw. The most remote of all this cites is 150 km away.
Stankowice is an old settlement whose dwellers for a few centuries worked for an owner of the Czocha Castle, situated not further that 1.5 km away. Rengensdorf (a former German name of the village functioning to WW II) was a village with two blacksmith's shops, bakeries, two restaurants and a village house of meetings and entertainment. After the war the village was renamed and new dwellers were brought in. People living here today are the sons and the grandsons of families who were relocated to this place. Today, there isn't any blacksmith's shop, any bakery or a restaurant but the village house of meeting and entertainment is still there and it offers the best dancing parties in the whole neighborhood. Stanowice is a picturesquely situated village, kind of sandwiched between the huge forest full of animals and mushrooms, and two lakes made by man at the beginning of the century: Lubanskie Lake and Zlotnickie Lake. Owing to its original location and the shape of its terrain, this place has a lot to offer. In summer, it is a great area if it comes to walking, running, cycling, swimming and canoeing. In winter, it gives great opportunities for cross-country skiing (Jakuszyce – one of the best places in Europe to practice this sport), downhill skiing and snowboarding (gondola opened from the morning till 11 p.m., snow produced by snow guns), forest expeditions (deep-snow walking in snowshoes), ice fishing, and ice swimming. There are also other tourist attractions than those connected to location of the village. This part of Poland was passed from hands to hands many times (Czech Republic, Germany, Poland) and each country left here its own footprint in a form of culture and at the same time its language, customs, literature, architecture, food and music. The proximity of the Czech border (10 km) and German border makes it highly possible to see the variety of places, cultures and customs within a few days. What can be more interesting?